What is Custom Website Design?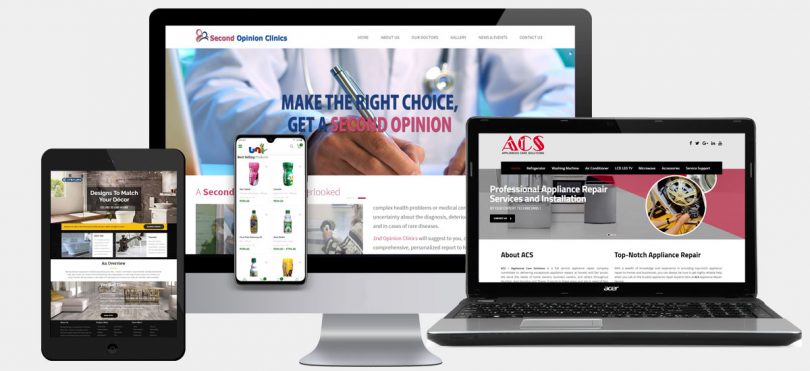 Nowadays, it is easy to use a website template and themes to create an accustomed, standard website. Templated websites are simple, scalable, and ready solutions for the small to medium-size enterprises. This façade is false.
Regardless of being marketed as "easy to use", most templates take up so much of time that their appeal is quickly embarrassed. As an entrepreneur, you do not have the patience to design a website that truly represents you online.
Even if you've decided to hire a designer to create your website, they may choose to create your website using an available template from the market. Many templates won't allow customizations of important pictures and graphics, or navigation, and much more. You'll be left with no choice of own to try and make the bulky template work for your business and end up with an imperfect online product.
We want you to love your website the way you love your business. It's your online presence, it should represent who you are. We're here to help you get back to what you're best at – running your business.
Show Your Business & Brand
Have you ever visited a few doctors' websites and realized that you're looking at almost the same website, even when viewing a completely different dentist? This appears to happen when agencies use templates designed for particular industries or trade. The result is that your website looks just like your competitors. How can you stand out if you look the same as everyone else? Your website should be unique that makes your brand truly striking.
If your clients are comparing your website with the competitors, you won't stand out. Your customer might write you off as their website is ranking ahead on the search results. On the other hand, creating a custom website can show your viewers that you're different from all the rest and that you can give a truly special customer expertise.
Look Attractive and Professional
Templates often give a "novice" look to a website, which often reflects on the entrepreneur. When potential customers browse through your website, a ready to use template might make them judge that you are new into the market or they will not take your products or service seriously.
A custom website design that features an attractive design, SEO-friendly, mobile responsive, and provides credibility to your brand and business. It presents the look more acknowledged and helps to make your brand reach out to the competitors.
Create a Mobile Responsive Website
More than 80% of website traffic comes from a smartphone, which means the website needs to be used on all devices including mobile. Website templates will adjust to different screen sizes but mostly focus on the resizing site to fit the screen. These templates will never improve the experience based on the gadgets. Custom design delivers an exceptionally unique experience that makes using your brand and reaching your online services and products easily.
Keep the Right to Expand
When you select a website template, you face the trouble of developing and customizing your website. In case your online business expands and grows, you might need to completely start over. While a custom website design, reflect any growth that your company experiences. You will have unlimited possibilities to expand your website and update as and when required in the future.
Bring In More Customers or Clients
A website created by using a template will not undoubtedly bring in the leads that would use your products or services. These types of websites cannot foretell your target market and will not be capable to find your business missions and goals. It might not be a good representation of what your prospective visitors are looking for and will not complete the session.
Templated websites often provide an irritating visitors experience. They lost on where they should browse within the website or what to do next to reach their targets.
Your website based on templates may be found low conversion rates, on the other hand, a customized website rank higher with lead conversion. Your website may able to target audience and help to drive to convert online. Our professional and experienced team will work with you for a customized website to ensure to target prospective customers.
Best Response by Visitors
A customized design website gets better results from visitors and prospective customers. It gives advanced conversion rates and a higher return. This is because custom website design does a better job of providing content that meets customers' requirements and directing them to that content in a user-friendly approach.
We also assist your business develop a design that meets your brand recognition rather than adjusting your brand to fit a ready-made template. This benefit can showcase your enterprise in the easiest to better with a purpose to connect with your audience.
While a template is fast and simple, but it can also build a bad image and affect your online business. A custom website design is made to fit your brand and help your visitors or prospective customers have a positive experience, leading to conversions.
Contact our professional team to schedule a free consultation. We'll plan with you to go over your specific requirements and how a website customization can help your online business to grow so that your products and service will rank high in search engines.