Axial as one of the Best SEO Companies by SuperbCompanies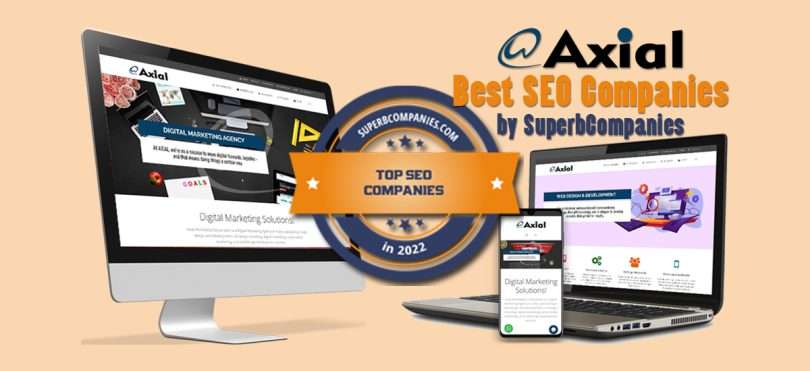 Best SEO Companies
Any team is happy to receive an award for its work, experience, unique and success stories for Best SEO Companies. Axial Worldwide Corporation is no exception to this rule. Our team is incredibly excited to receive this award from SuperbCompanies for Best SEO Companies in India. We are happy that our results have been noticed and appreciated by professionals.
Axial Worldwide Corporation is a full-service digital marketing agency based in India with our head office situated in Mumbai, Navi Mumbai, Maharashtra, India. We are a team of experienced Website Designers and Developers, eCommerce Web Developers, Mobile App Developers, and Digital Marketing professionals dedicated to creative and results-driven web-based solutions using the latest trends and technologies.
Our competencies have enabled us to empower our clients by providing innovative and result-driven solutions. Since 2010, we have worked with hundreds of corporate customers and established ourselves as one of the most trusted best seo companies and online digital marketing solution providers for businesses in India.
The company's SEO specialists have a wealth of experience and clients' unique and success stories. Due to theses factors, we consistently add value to our customers by enriching their ideas and realising their goals through our expertise in search engine optimization for small, medium, and large businesses in almost any niche.
Also, we provide other web solutions and services such as:
Website Design;
Website Development;
Ecommerce Solution;
Mobile Application Development;
Social Media Marketing;
Domain Registration;
Web Hosting.
About SuperbCompanies
SuperbCompanies is an independent rating and analytics platform for B2B and B2C clients. The SuperbCompanies team publishes various listings of TOP companies in different categories, generating rankings based on data from the Internet. Ratings are generated based on clients' feedback, experience, cases, and other factors.
We are grateful to the SuperbCompanies team for including us in the list of the Best SEO Companies, thus confirming the quality of our services.
Reach out to us today to set up your free consultation. Contact us at +91-9702988924, +91-9004950225 or write to care@axialworldwide.com or fill the form below: